How to
ensure payment validation

for NICU claims
Put your NICU billing and payment accuracy concerns to bed with our Payment Validation & Assurance Service.
Claims management is one of the most critical aspects for health plans to optimize in order to achieve cost savings. Now, ProgenyHealth has your NICU cases completely covered. Our Payment Validation & Assurance Service helps you prevent inaccurate payments and realize maximum value from our UM/CM services by providing insights into the billing behaviors driving up NICU claims costs.
This enhancement to our services enables post-adjudication, prepayment verification of coded charges and levels based on our clinical authorizations and expected claim outcome. Our proprietary platform, Baby Trax®, provides the complete data history to make it all happen proactively, and typically within one business day to help maintain your crucial TAT targets.
We help close the "care-and-cost-continuum-gap" by improving NICU cost drivers within any payment methodology or contract type. Some of the key drivers include validation of:
Length-of-stay – by verifying number of days billed vs. authorized
Level-of-care – by assuring the billed charges match the clinical levels of care authorized
Diagnostic severity – APR-DRG, with over 100 targeted codes that we can review and document to help eliminate up-coding
Avoid back-end audits and the pay-and-chase game
Payment Validation & Assurance saves health plans the cost and time associated with NICU claims processing by ensuring the claims submitted are consistent with the services authorized by ProgenyHealth's UM nurses and medical directors. It's also an important part of our collaborative approach to working with your providers, building valued and trusted relationships.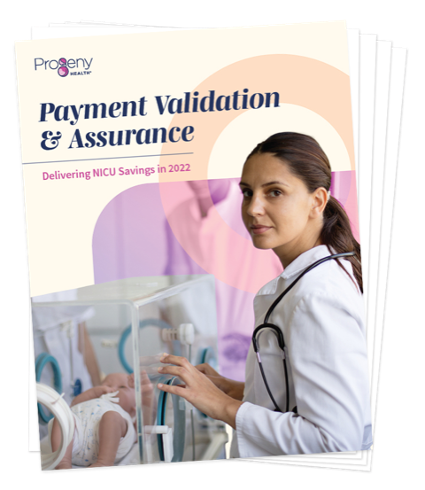 ProgenyHealth's singular focus on NICU babies and their families was crucial to the program's success, and especially vital in building a collaborative relationship with our providers. We're very pleased with the outcomes of this initiative and the role it plays in our ongoing efforts to help members most at risk of developing serious chronic conditions.
Chief Executive Officer, Health Alliance Plan
The value and benefit of ProgenyHealth to our members' health and satisfaction alone is worth the cost.
ProgenyHealth has helped to reduce our ALOS, reduce outlier days, and keep our readmission rates low. Testimonials from our members are full of praise.